VPAS Rockingham News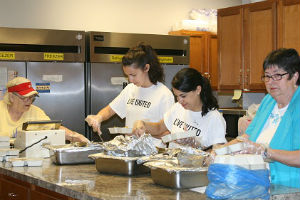 East Rockingham Senior Center hosted volunteers from Wells Fargo for the annual United Way Day of Caring on May 15.
The four volunteers socialized with the 18 members in attendance for the day, assisted with dishing food for meals on wheels and congregate meals, were given an overview of VPAS programs and services, as well as activities that are offered through the Elkton Area Community Center–the building where ERSC is housed.
The United Way Day of Caring for ERSC was coordinated by Beth Bland, H/R RD.
More online at www.EastRockinghamSeniorCenter.org.
---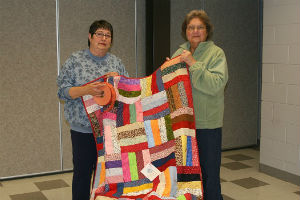 East Rockingham Senior Center began a lap robe raffle on May 13, with the proceeds going to VPAS for the Harrisonburg/Rockingham Region. The accompanying photo shows ERSC Substitute Director Y. Shoemaker (left) and Marie Frey holding the beautifully crafted quilt. Tickets are $1.00 each, and the lap robe will be displayed and tickets sold through Thursday, May 16, when a community clubs and organizations fair will be held that evening at the community center where ERSC is housed.
The lap robes are assembled and sewn by ladies from Elkton United Methodist Church. Two of the ladies from the church–Marie Frey and Floe Koontz–recently held a lap robe quilt tying workshop at ERSC, and they offered four lap robes to ERSC members whose names were drawn at random. Those lap robes were delivered to the Center on May 13. After that workshop, ERSC Director Lisa Gooden phoned Mrs. Frey to inquire whether she and Mrs. Koontz would consider donating one of the quilts for a raffle for VPAS. A short time later, Mrs. Frey phoned Lisa to say that she and Mrs. Koontz had discussed and agreed this would be a worthy cause.
The winner does not need to be present, so we are hopeful that we can sell a few chances and bring in some revenue for our Region.
For more information, call Lisa at 540-383-7006.
More online at www.EastRockinghamSeniorCenter.org.
---
Timberville Broadway Senior Center was privileged to attend the Aging Gracefully Conference on Tuesday, May 7. The Aging Gracefully Conference is an annual event sponsored by RMH Senior Advantage. Eight members of TBSC were able to browse through the vendors, participate in some free health screenings and hear two presentations by local medical professionals. The overwhelming consensus was that the conference was very helpful and worth their time! This is definitely an event that TBSC will plan to attend next year!
---
Timberville Broadway Senior Center and Price Rotary Senior Center were excited to host a Fire and Fall Safety presentation by their own Dottie Furrow, PRSC driver, and Erin Stehle, PRSC Local Council member, on Wednesday, May 8. Approximately 20 members plus staff benefited from the excellent presentation.
This presentation is part of the follow up to a conference that Erin and Dottie attended in December of last year. The Conference that Erin and Dottie attended was called "Remember When, Fire and Fall Safety Conference" and was held in Boston, MA. Dottie and Erin were able to attend through a grant that Harrisonburg City Fire Department received and partnered with VPAS. The follow up requirements of the grant are to do presentations and also work with individuals in their homes.
Both Centers were very pleased to have Erin and Dottie give the presentation! Thank you Ladies!
---
Timberville Broadway Senior Center has had a very busy week that included an Open House to say thank you to the MOW volunteers. TBSC depends on volunteers from the local churches in Broadway and Timberville to run the Meals on Wheels route through the year. Reviewing the volunteers that had served over the last year, it was determined that there were roughly 100 people that needed to be invited! What an amazing commitment to the older citizens in the Broadway Timberville area!
TBSC was able to offer a nice reception of muffins, fruit, coffee and other beverages to the volunteers. In addition each volunteer received a bag filled with goodies. Thank you to JMU for donating the bags and things to fill them! TBSC was happy to hand out bags to approximately 40 volunteers that stopped by! Thank you also to Crystal Collins, PDCC, for supplying some of the muffins!
TBSC would also like to extend a special thank you to HR RD Beth Bland, Case Manager Ada Longenecker, Donna Brown and Myra Yancey for taking time to come and honor the volunteers at the reception!
---
Cristin Sprenger of the Virginia Cooperative Extension Office in Harrisonburg, offered a 45-minute talk on "10 Things You Can do to Avoid Fraud," to 22 East Rockingham Senior Center members and one volunteer on May 13.
The tips that Mrs. Sprenger mentioned included:
keep in mind that wiring money is like sending cash: once it's gone, you can't get it back
don't send money to someone you don't know
don't respond to messages that ask for your personal or financial information, whether the message comes as an email, a phone call, a text message, or an ad; don't play a foreign lottery
don't agree to deposit a check from someone you don't know and then wire money back, no matter how convincing the story
read your bills and monthly statements regularly–on paper and online
in the wake of a natural disaster or another crisis, give to established charities rather than one that seems to have sprung up overnight; talk to your doctor before buying health products or signing up for medical treatments
remember there's no such thing as a sure thing; and know where an offer comes from and who you're dealing with
Mrs. Sprenger's visit generated a lot of exchange of between the members and was much appreciated. It served as a reminder that, "If it sounds too good to be true, then it probably is."
---
More News